The staff would like to share some of  our extensive jewelry knowledge with you. This page contains some helpful web resources and articles written by the Jewel Box Jewelers staff.
http://www.diamondfacts.org | Choosing a reputable jeweler.
Cleaning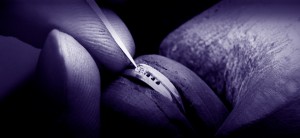 Did you know that jewelry should be cleaned and inspected every 6 months? Many people think you put jewelry on and that's it. For jewelry worn on a daily basis (wedding rings, your favorite bracelet, etc.) it  needs to be cleaned and checked for wear at least every six months.  Most often we see worn out prongs on engagement rings that need to be rebuilt. Bring your jewelry in any time.

Usually we can clean and inspect while you wait, or while you run an errand on Main Street or Boone Village. It will be ready when you return.